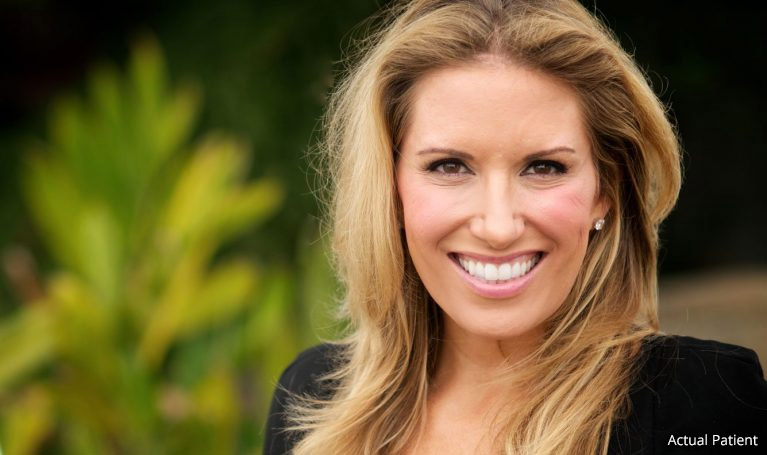 That is a question you will never have to answer when replacing teeth with dental implants at Complete Dental Health. Dental implants are the most life-like, most recommended way to replace missing teeth and stabilize dentures today. Dental implants look, feel and function so much like natural teeth, you might even forget you weren't born with them.
Consequences of Missing Teeth
Before we go into what dental implants are, how they work and all of the wonderful benefits, we think it's important to understand what can happen when missing teeth are left missing.
Surrounding teeth begin to shift and rotate to fill the space.
Alignment and bite become compromised, putting added stress on your TMJ.
Underlying gum tissue deteriorates.
Underlying jawbone deteriorates without the support of the tooth root.
Eventually, you end up with that sunken face appearance.
Inability to eat and speak properly.
Sadness and loss of confidence.
Tooth replacement are the only way to replace the tooth root and prevent all of the unfortunate consequences discussed above.
What are Dental Implants?
Dental implants are small titanium posts or screws that are surgically inserted into the gums and jawbone where a tooth or teeth have gone missing. Dental implants effectively replace the tooth root, which is an essential component for a healthy, functioning smile. Traditional restorations that sit on top of the gums can still lead to much of the gum tissue and jawbone loss described above.
Dental implants become fused with the jawbone, becoming a fully integrated component of your complex oral health system. Implants even stimulate new bone and tissue growth around the implant! Dental implants have truly revolutionized the way we replace missing teeth.
At Complete Dental Health, we have the clinical expertise and the advanced technology to surgically place and restore dental implants from the comfort of your dental home. Dr. Collins has helped many patients get their healthy smile and their happy life back with dental implants.
Dental implants typically require a period of about six months to fully heal and become integrated. Once healed, we can complete the process with a brand new ceramic crown to replace a single tooth, a bridge to replace multiple teeth, or stabilize a full set of dentures. Dental implants are the most sophisticated, life-like way to replace missing teeth and get your fully functioning smile back.
Benefits of Dental Implants
There are many benefits in replacing missing teeth or stabilizing dentures with dental implants. Benefits range from functionality to health benefits, to aesthetics and everything in between.
At Complete Dental Health, we understand how important a healthy, functioning smile is for your everyday life. If you're suffering from missing teeth or ill-fitting dentures, we want you to know you're not alone, and we would love to help you get your smile and your life back. Complete Dental Health is your premier provider of dental implants in Hillcrest.
Prevent surrounding tooth movement
Preserve alignment & bite
Protect TMJ
Prevent tissue & bone loss
Stimulate new bone & tissue growth
Maintain facial shape & aesthetics
Enjoy your favorite foods again
Regain normal speech patterns
No more removable appliances
No more messy denture adhesives
Clean & maintain like natural teeth
Added layer of security
Look, feel & function naturally
No more worrying about your teeth
Improved confidence & quality of life!
Implant Supported Dentures
If you're missing most or all of your natural teeth or playing slip-n-slide with your dentures, we would love to help you regain your freedom with our modern denture options. Dentures are a full arch of fabricated teeth designed to look, feel and function naturally.
Traditionally, dentures are made to sit on top of the gums, secured in place with denture paste or adhesive. While traditional dentures are still a good option for some patients, modern dental techniques and technology have given us a more secure way to do dentures.
If your jawbone is healthy and dense enough to support dental implants, we highly recommend implant supported dentures for added security and functionality. We use the minimum number of implants to support the maximum number of teeth, and give patients a secure, life-like smile they can clean, eat and maintain just like natural teeth. Implant supported dentures give patients a new sense of hope in living a life without worrying about their teeth.
If you have any questions about restorative dentistry or would like to schedule a consultation with your San Diego dentist, Dr. Timothy Collins at Complete Dental Health, give us a call today or schedule a visit online!
To request an appointment with us please call us at (619) 295-2202 or click on the button below to provide us with your contact information and preferences for the day and time of your appointment.