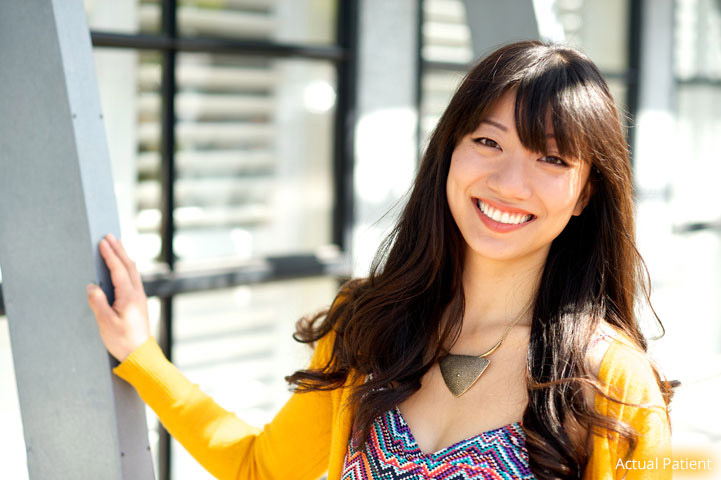 At Complete Dental Health, we believe everyone deserves a healthy, functional smile they can be proud to show off. If you're suffering from cracked, chipped, broken, or missing teeth, chances are you are not living up to your full potential. Not only does your confidence suffer, but it can be difficult to enjoy your favorite foods, and your overall oral health may be at risk. We use only the most advanced technology and materials to restore your smile, your confidence, and your quality of life!
Benefits of Restorative Dentistry
Before we begin to discuss the benefits of restorative dentistry, we need to discuss the consequences when damaged or missing teeth are left untreated. Your oral health is a complex system, and when one piece becomes compromised or goes missing, it can cause the whole system to collapse. Broken teeth are left weakened, and can be prone to further damage. If a tooth is left missing, surrounding teeth will begin to shift and rotate to fill the space and the underlying gum tissue and jawbone deteriorates. The way your teeth fit together (your bite) may change, which can cause excessive forces on your teeth and TMJ.
Not to mention, nobody feels confident with an incomplete smile, and a full set of healthy teeth are essential for eating a balanced diet and enjoying your life to the fullest.
The Benefits of Restorative Dentistry include:
Prevent further damage
Prevent alignment & bite changes
Maintain TMJ health
Preserve jawbone & gum health
Strong, durable & long-lasting restorations
Blend in seamlessly with natural teeth
Look, feel & function naturally
Enjoy your favorite foods
Feel confident in a complete smile
Onlays are commonly used to fill large areas of decay or repair broken teeth. Onlays are the intermediate step between a simple filling and a crown. Onlays are slightly larger than inlays and repair damage that extends beyond the cusp (outer ridges) of the mouth.
Onlays supplement and fortify your natural tooth, and are a more conservative option than a crown that requires removal of healthy tooth structure. Our goal is always to keep your natural teeth healthy and intact for as long as possible. If you have a badly decayed or damaged tooth, your Hillcrest dentist may recommend an onlay before deciding on a full crown.
If you have a tooth that is badly decayed or damaged and is beyond the point of repair with an inlay or onlay, you may require a crown. Crowns are a wonderful option for patients looking to restore a tooth back its full, healthy, functioning condition. Crowns are tooth shaped caps that are fitted over any remaining healthy tooth structure to give you your full smile back.
Crowns are made with precision digital technology to look, feel and function just like natural teeth! No one will ever need to know you've had a crown, you may even forget yourself! Crowns can be easily cleaned and maintained just like natural teeth. Crowns at Complete Dental Health are durable and stand up to the test of time, and the strong forces in your mouth.
Restoring your smile with a beautiful crown in the skilled hands of Dr. Tim Collins will get you back to feeling like the Queen you are in no time.
If you're missing a tooth or multiple teeth, we would love to help you bring balance back to your smile with a bridge. Dental bridges consist of one or more fabricated teeth, anchored in place with crowns on either side. Bridges are a wonderful option for patients missing multiple teeth in a row, or patients missing a single tooth with damaged teeth on either side.
Bridges can be fixed in place or removable depending on your individual needs and preferences. We usually recommend fixed bridges as they are the most secure, most life-like solution and can be cleaned and maintained just like natural teeth.
If you're missing a single tooth, and still have healthy teeth on either side, we don't want to compromise the integrity of your healthy teeth to place a bridge. With the help of a dental implant, we can provide a single tooth solution to a single tooth problem with a dental implant and a full crown.
If you're missing most or all of your natural teeth or playing slip-n-slide with your dentures, we would love to help you regain your freedom with our modern denture options. Dentures are a full arch of fabricated teeth designed to look, feel and function naturally. Traditionally, dentures are made to sit on top of the gums, secured in place with denture paste or adhesive. While traditional dentures are still a good option for some patients, modern dental techniques and technology have given us a more secure way to do dentures.
If your jawbone is healthy and dense enough to support dental implants, we highly recommend implant supported dentures for added security. We use the minimum number of implants to support the maximum number of teeth, and give patients a secure, life-like smile they can clean, eat and maintain just like natural teeth. Implant supported dentures give patients a new sense of hope in living a life without worrying about their teeth.
Full Mouth Reconstruction
If your mouth has been devastated by traumatic injury, gum disease, or rampant tooth decay, and you've lost all hope in ever smiling again, our team at Complete Dental Health would love to be the one to help you. It doesn't matter how you got here, all that matters is where we go from here.
Dr. Timothy Collins is not only a fantastic reconstructive dentist but one of the most compassionate people you will ever meet. We will never judge you or make you feel guilty, and we will never recommend treatments or procedures we don't genuinely believe are in your best interest.
We will sit down with you in a one-on-one consultation to discuss things like:
Your concerns & fears
Your current state of oral health
Your diet & lifestyle habits
Your goals for your smile
Your budget & ideal timeline
We will create a custom treatment plan just for you to help you rebuild your smile, your confidence, and your quality of life. We want nothing more than to get your oral health back on track and help you smile again.
If you have any questions about restorative dentistry or would like to schedule a consultation with your San Diego dentist, Dr. Timothy Collins at Complete Dental Health, give us a call today or schedule a visit online!
To request an appointment with us please call us at (619) 295-2202 or click on the button below to provide us with your contact information and preferences for the day and time of your appointment.